Divorce After 2 Years Separation – The Rules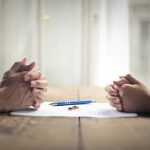 2 Years Separation Divorce Service
We will manage your entire divorce process from start-to-finish when filing on the grounds of 2 years separation with consent, for just £189 fixed fee.
Find out everything you need to know about getting a divorce in England and Wales using two years separation with the agreement as your reason for a divorce.
What is two years separation ground for divorce?
Divorce after 2 years separation is effectively the only no-fault ground for a divorce in England and Wales.
It enables someone to present a divorce petition to the court on the basis that they have been separated for 2 years or more and that they both consent to the divorce in writing.
You do not need to say anything else in your divorce petition about the reasons why you separated.
Simply state that you have been separated for 2 years or more and that the marriage has irretrievably broken down beyond repair.
It's the most amicable way to divorce if both parties can agree as there's no blame laid on either party.
How to prove a 2 years separation divorce
But in reality, you need to have lived in two separate households to present this ground to the court.
The court is very strict on discounting your living arrangements if you have continued to live together for any period of time during your two years separation period.
You can be separated while living in the same home as long as you're not together as a couple (for example you sleep and eat apart), but it does become more complex.
If you've lived in the same property since separation
If you have lived in the same property it will be hard to persuade a court that you have indeed been separated for 2 years and you would be advised to call us on 01793 384 029 to discuss your case before proceeding further.
It doesn't necessarily mean that divorce solicitors are required, but because a detailed statement of your living arrangements may be required to persuade the court that you have been living in separate households, it's always best to get advice before proceeding yourself.
The other thing is that your spouse has to sign an acknowledgement of service form indicating that they consent to the divorce and that they confirm you have indeed been separated for 2 years or more.
If they do not acknowledge the proceedings then the divorce cannot go any further and you would need to think about other grounds for divorce to proceed on, such as unreasonable behaviour.
You also have to give the addresses at which you have lived since the date of separation given in the divorce petition and then swear a statement of truth.
How Long Is My Divorce Likely To Take?
Use our quick and easy tool to find out how long your divorce is likely to take when using our online divorce services compared to hiring high-street solicitors.
How much does this type of divorce cost?
The cost of divorce after 2 years separation will be considerably cheaper if you can do it with mutual consent and avoid lawyers fees.
The typical cost of a divorce after two years when there is agreement is £739 in legal fees and court fees.
The court filing fee is currently £550 unless you are on low income or certain benefits, which must be paid at the point in which you file for divorce.
Your legal fees for preparing the divorce documents can be as little as £59 with Divorce-Online, but the most popular service is £189.
We can also deal with a financial clean break by consent as part of your service from £199.
So the cost of your divorce does not have to run into thousands of pounds.
Is an agreement necessary to use this ground?
To use two years separation as your reason for divorce, your husband or wife must agree in writing to the divorce.
Without your spouse's written consent you cannot proceed with your divorce using this ground for divorce.
Other alternatives to this ground that you can pursue are unreasonable behaviour or 5 years separation, where you don't require the consent from your spouse.
Two years separation is the quickest and easiest way to obtain a divorce if both parties agree and are happy to sign paperwork sent to them via the court.
What should I be asking myself when deciding which grounds to use?
Ultimately, what you should be asking yourself when deciding if this is the most suitable grounds to file for divorce on is, 'Am I sure my ex-partner will sign and return the paperwork sent to them from the court?'
If your answer is yes, then 2 years separation will be the most amicable way to obtain a divorce in England and Wales as it reduces acrimony and removes the blame from either party.
Commonly Asked Questions…
Can you get a divorce without your spouse's consent?
In England and Wales, you can get a divorce without your spouse's consent once you've been living separately for at least a sustained period of 5 years.
Do I have to be separated for 2 years before divorce?
You can file for divorce after you've been married for 12 months (1 year). Unreasonable behaviour and adultery are the grounds available to you should you seek a divorce before being separated 2 years.
Can a 2 years separation divorce be done without consent?
It cannot. Using the grounds of 2 years separation, there must be consent from both parties. The respondent must sign the acknowledgement of service form that is sent to them by the court.
Using Divorce-Online can help you cut the costs of your divorce
We can give you advice as to whether or not your situation is suitable for a divorce on the fact you have been separated for 2 years with the consent of your spouse.
Please call 01793 384 029 for free advice and information on how to divorce using 2 years separation or any other ground would work for you.
Our 2 years separation divorce service is the ideal service for obtaining a divorce with the consent of your spouse as we deal with everything for you and keep you updated throughout, leaving you to carry on with your life without the stress and worry of dealing with your divorce.
If you are looking for a simple divorce based on the grounds of 2 years separation with consent then this is your perfect solution. For a fixed fee of just £189 we will handle your entire divorce for you, from the beginning to the end, whilst keeping you up-to-date throughout.