Use DivorceTrack To Track Your Divorce Application Status Online
Track Every Step of Your Divorce Using 'DivorceTrack', Your Own Personal Case Tracker.
One of the biggest complaints about legal service providers is that you never know what is happening and getting answers is always a slog, as the person handling your case is always busy.
Divorce-Online wanted to be different. DIVORCETRACK is our answer to inefficient, unfriendly and expensive legal providers who are never there when you need them.
DIVORCETRACK is now the no.1 reason Divorce-Online is recommended by our clients, even more than our speed and of course price.
Developed by specialist coders and usability specialists you will always be in control and know what is happening at each step of your case.
Not only can you track the progress of your case in real time, you can also download and store your divorce documents created for you and receive support messages securely in private. What's more, it's totally free to use!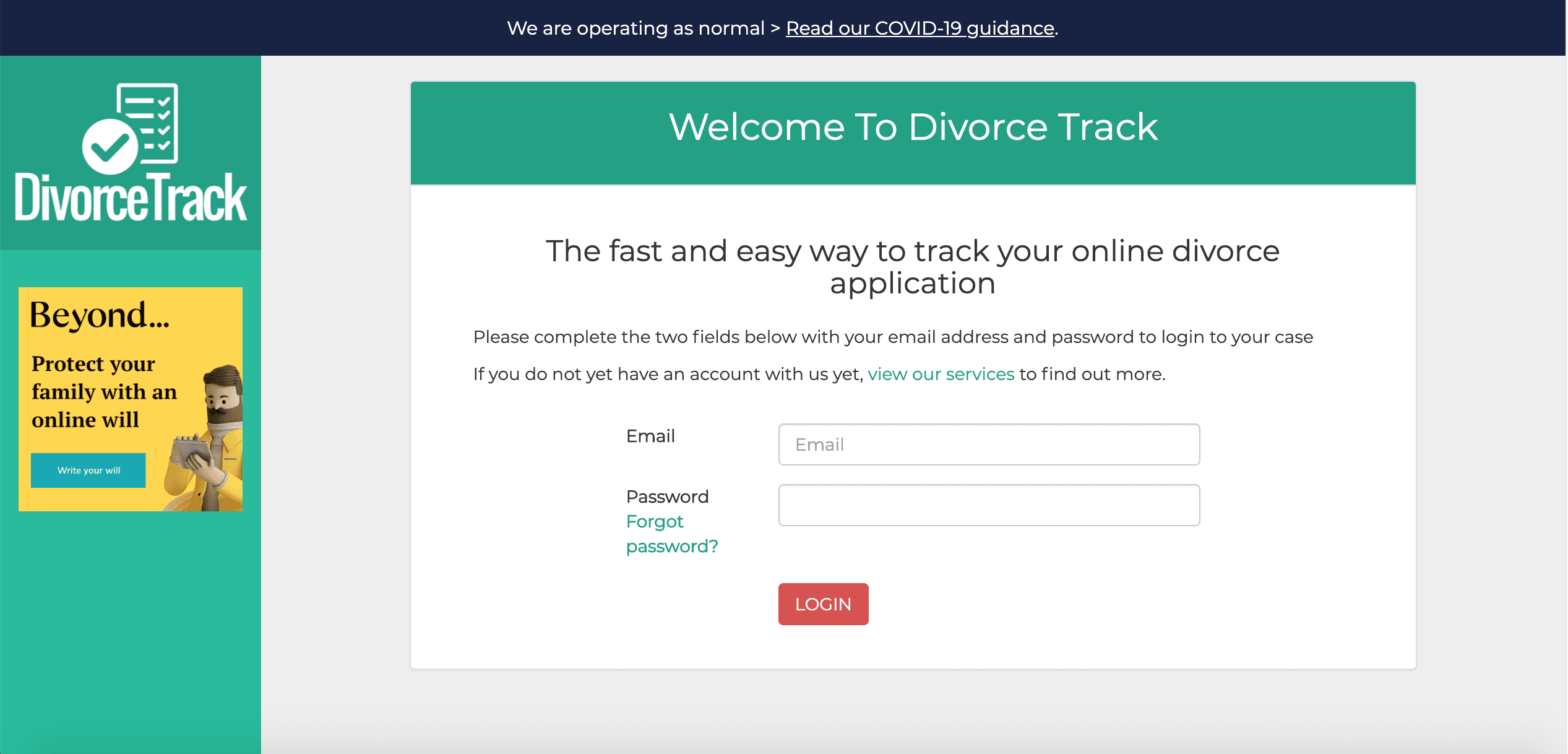 LOGIN TO OUR SECURE ONLINE CASE TRACKING SYSTEM – DIVORCETRACK
After you complete our secure online checkout you will be sent an e-mail with your username and login details.
You will need to enter these into the fields displayed so that you can gain secure access to track your case.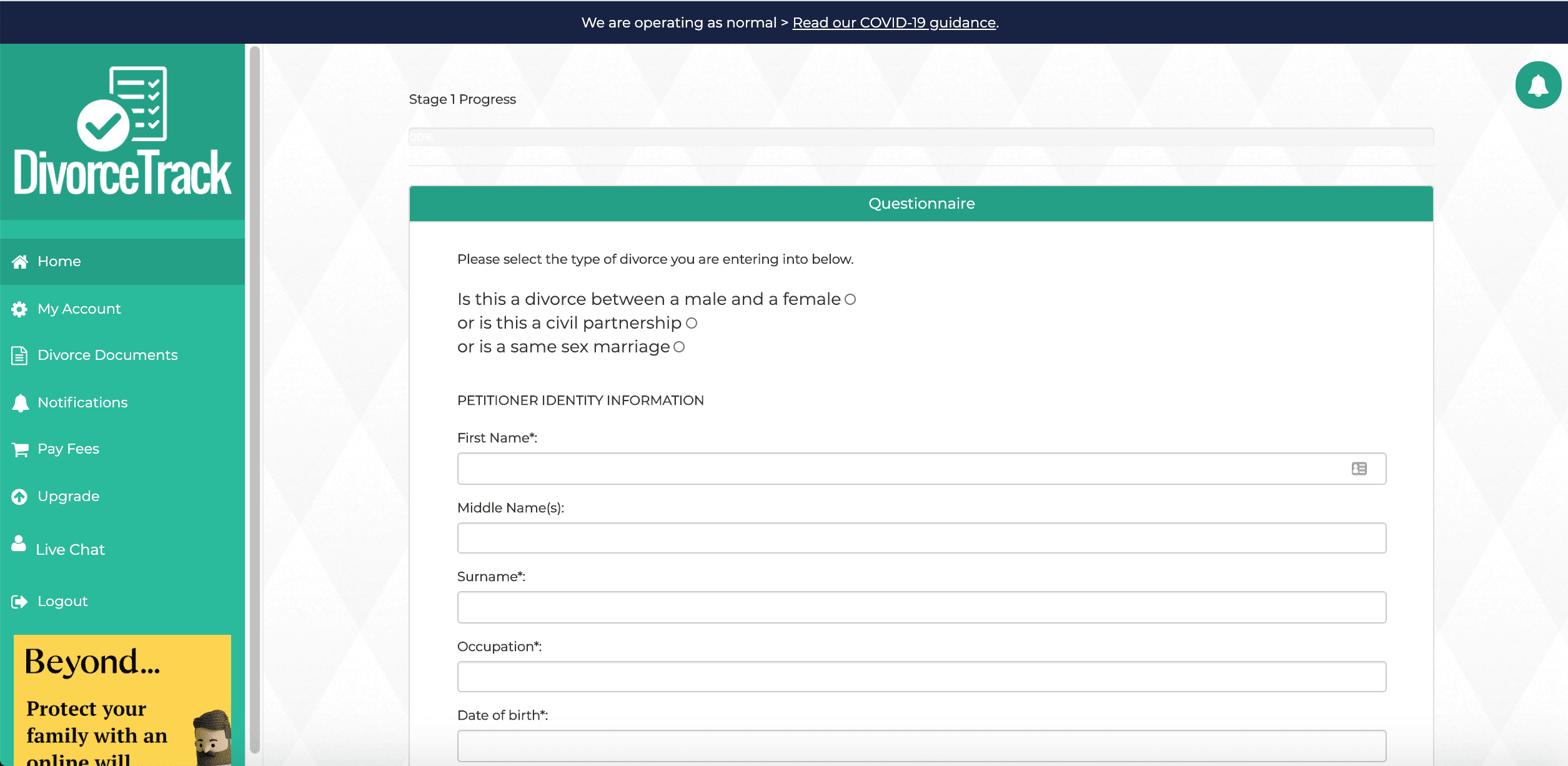 COMPLETE OUR QUICK & SIMPLE ONLINE QUESTIONNAIRE
Once logged in to your Divorce Track account you will be presented with a simple and easy online questionnaire.
Depending on which service you have purchased this will be different. Once you have completed the relevant online forms our expert paralegal case managers will be notified immediately so that they can start drafting your documents and everything required for the service you have purchased.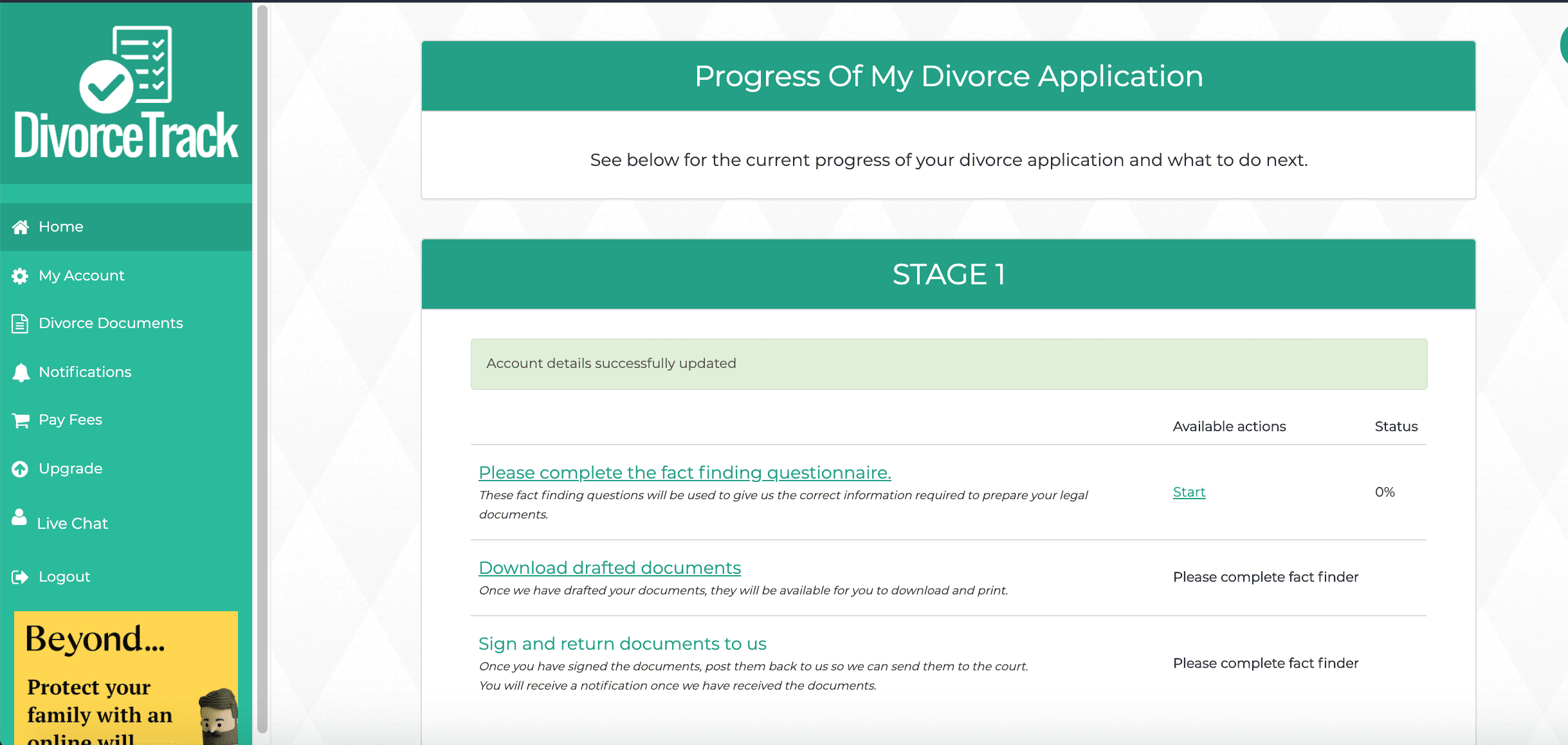 CASE MANAGER
There is a reason why our online case manager is acclaimed as one of the best and that is the detail that it gives you in a clean and simple interface, through this you can see the following –
– What we do & what we have done (Updated instantly)
– What you need to do (If there is anything outstanding on your part)
– 24/7 instantly updated information of what stage your case is at
– Clear step by step visualizations of the process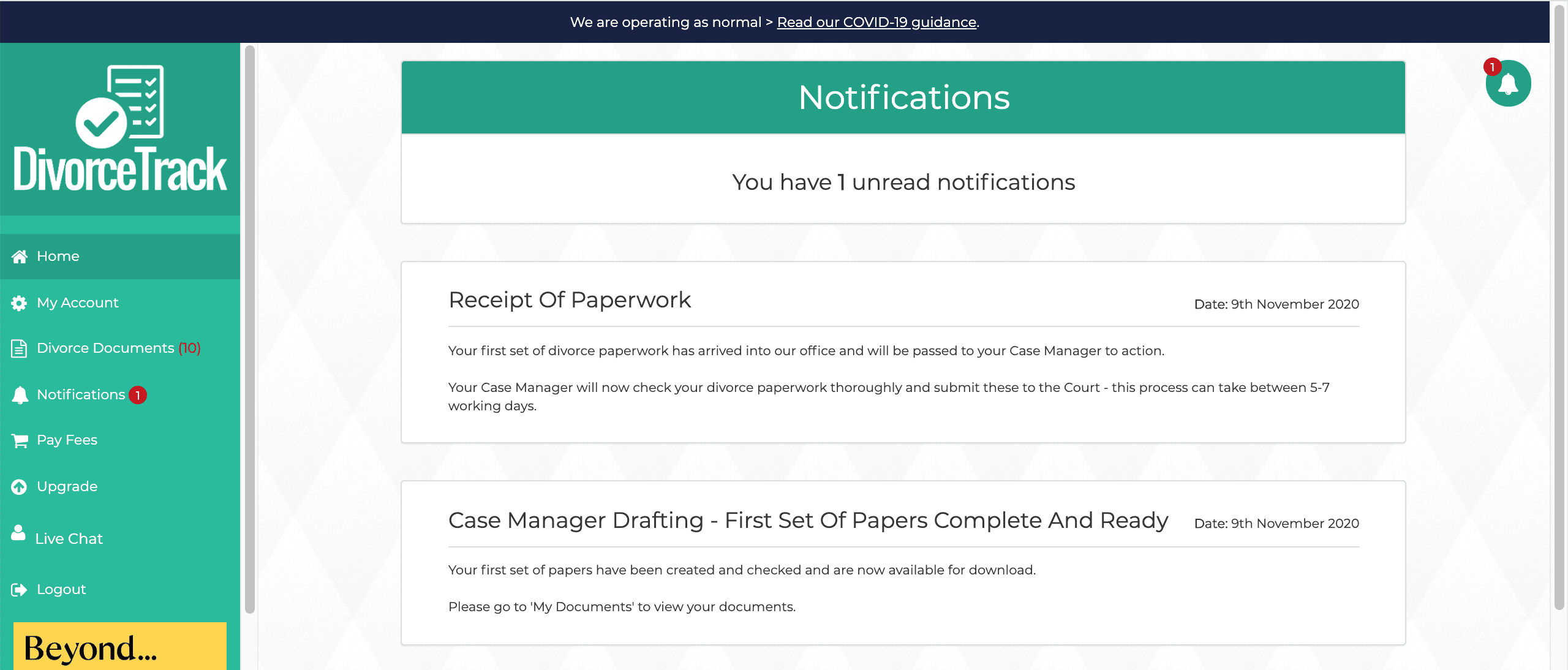 MESSAGE & SUPPORT
You will receive instant update and notifications both via e-mail and in your case manager interface. This easy to use interface allows you to keep a log of all the messages sent between yourself and your paralegal case manager.
From here you can submit support requests and queries with regards to your order aswell as asking general questions.
Our case managers are alerted instantly so that we can help you as soon as possible.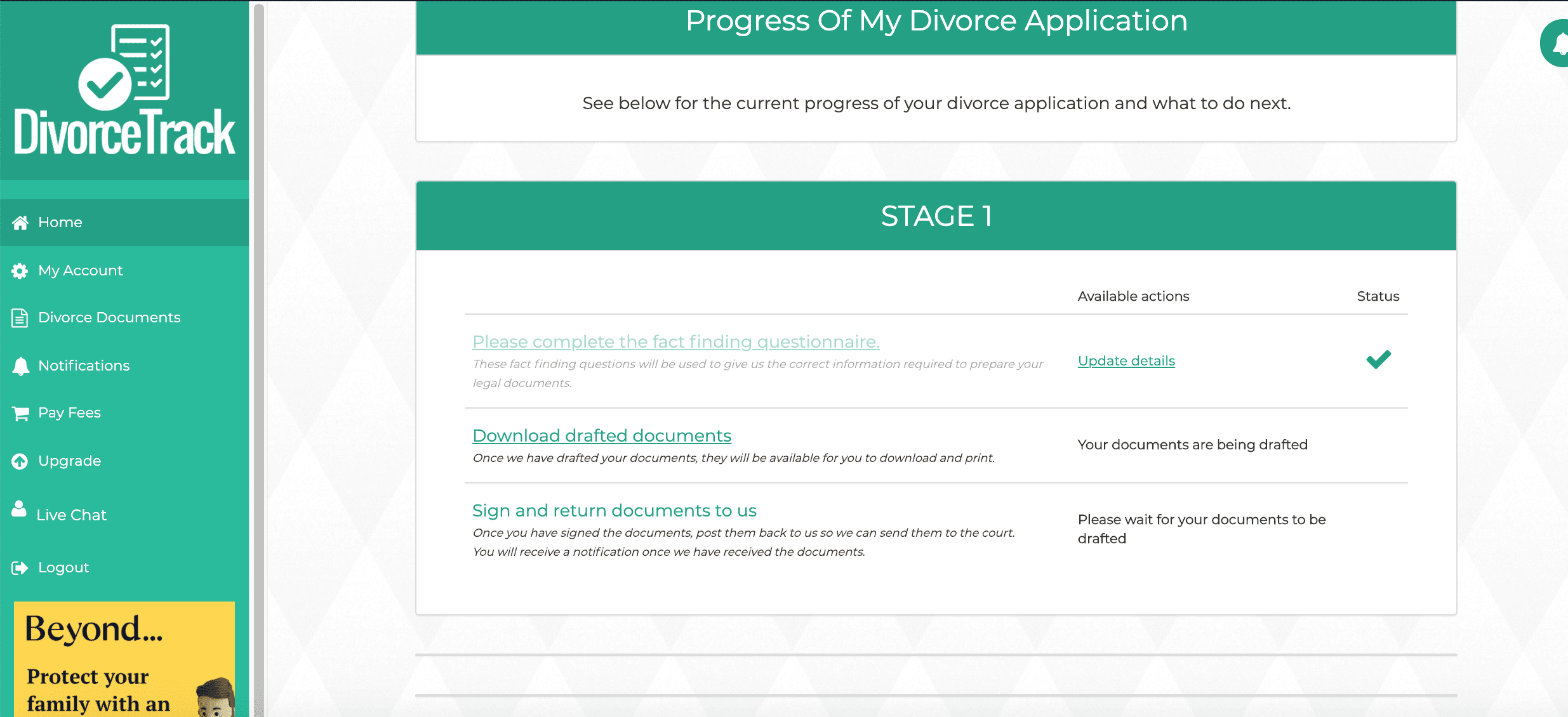 GUIDE TO DIVORCE PROCEEDINGS
This section of our case manager allows you to see exactly what each step of the divorce process actually means. We won't confuse you with complicated terms and phrases, we make sure that everything is explained in an easy to understand manor.
This will enable you to know exactly where you are in the divorce process, what happens next and when it will happen.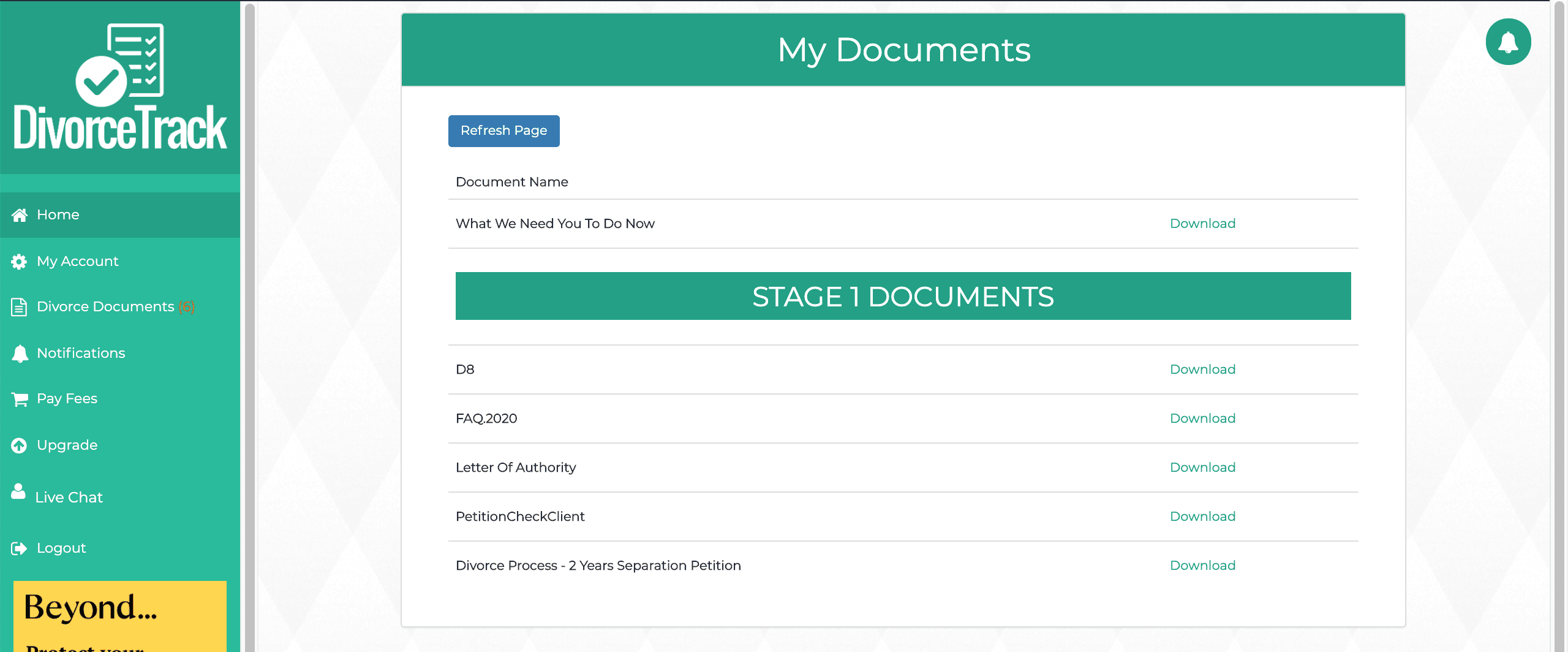 DOWNLOAD SECTION
The download section allows you to download documents as well as uploading any documents that we need.
For example when we need you to print and sign documents, you will receive a message to log into the website and go to the Case Manager screen this will tell you that there are downloads available.
DivorceTrack: The process from purchase to completion:
Get Your Divorce Started Today
We are the UK's leading online divorce provider, we have over 20 years of experience and have processed thousands of divorces.
We have a range of services tailored to your needs and budget, all carried out by our highly experienced team. Ensuring that you receive your decree absolute quickly, and affordably without compromising on the service you receive.
Live Chat
Got a question? Our advisors will point you in the right direction.
Opening hours:
Monday to Friday: 9am – 5pm
Call Us
Give us a call for free and impartial advice.
Opening hours:
Monday to Friday: 9am – 5pm
Email Us
Send us an email regarding your situation to get free advice.
Opening hours:
Monday to Friday: 9am – 5pm