Managed Consent Order Service – £399
We will manage the process of obtaining you a consent order to secure your assets and finances for just £399.00. This involves having a solicitor complete all of the forms for you and filing them with the courts, so you don't have to.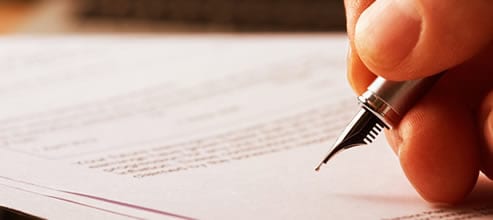 Managed Consent Order Service – £399
Our qualified solicitor will draft your consent order agreement and process it through court for you. 
You'll not need to attend court or visit our offices, everything can be done online or via email and phone. 
You simply need to provide us with some basic information regarding the agreement you've reached and our solicitors do everything else required for you.
Have your Consent Order Application Managed for £399
This service involves having a qualified solicitor draft your consent order agreement and file your application with the court, which will ensure your agreement is made legally binding.
To make a consent order legally binding, you will need to have a solicitor draft the agreement, but that does not need to cost you thousands.
Obtaining a consent order means that after your divorce you will have no financial ties to your ex-partner – without a consent order, you are still financially tied.
Who's this service for?
This service is ideal for people that want to have their financial agreement made into a legally binding court order.
The consent order is drafted by a qualified solicitor and processed through court on your behalf.
This service suits those who want to include the below assets as part of their financial agreement:
The sale/transfer of any property
Personal belongings
Spousal maintenance
Child maintenance
Lump sum payments
Debt provision
If you are looking to divide pensions, business assets or savings, you will need to view our Detailed Consent Order Service as these types of assets are not covered under this service.
As we deal with your entire financial application with this service, you are not required to file anything yourself with the courts.
It typically takes the judge between 8-10 weeks to approve the order and make it legally binding from the point at which we file the application for you.
Start your Consent Order Application Today in 2 Simple Steps
Complete our simple online order form.
Complete a quick & simple questionnaire – so that we can obtain your details.
Our qualified solicitor will draft your agreement and send it to you, to agree and sign.
Once you've returned the signed agreement to us, we will file the application and deal with the courts for you.
If you require your financial order to be drafted quickly, we can fast track your order and have it drafted within 5-7 working days, simply call us on 01793 384 029 to find out how.
Court fees are currently £50.00 to apply for a consent order. You may be exempt from paying court fees if you are on a low income or benefits.

Questions About Finances or Consent Orders?
Obtaining a financial order can be confusing. Use our free Live Chat facility to get quick and reliable answers.
What's included with our Managed Consent Order Service?
Solicitor Drafted – Your order is drafted by qualified & experienced solicitors.
All forms filed at court for you – Including the statement of information D81
There's no court appearance necessary – we deal with everything for you
We will advise you and deal with the court for you in the event the court raises any objections.
Free expert telephone and email support throughout your case.
Fast turnaround – up to 31 working days from start-to-finish.
A one-off payment of £399. No hidden, hourly or extra costs are involved.
Quick, Affordable & Professionally Drafted By Solicitors
Have your entire financial application managed for you. There's no need to attend court or our offices, simply complete your order online and we'll handle the rest for you.