A guide to prenups in the UK
A guide to getting a prenup before marriage in the UK.
What is a prenup?
A prenup is short for prenuptial agreement.
This is an agreement entered into by a couple prior to marriage that sets out what would happen to their finances in the event of the relationship breaking down or ending in a divorce.
Prenups have become increasingly popular as people marry later in life than in previous generations and people have accumulated their own assets such as property, shares or pension pots before they get married.
Are they legally binding?
A prenup is legally binding on both parties if the following requirements are met.
In 2010 The UK Supreme Court recognised prenups for the first time in the now famous case of Radmacher v. Granatino.
The case involved a German heiress called Katrin Radmacher and a French investment banker Nicolas Granatino, who had married in the UK in 1998.
To help Ms. Radmacher protect her £106m fortune in the event of the marriage breaking down, the couple signed a prenuptial agreement which stated neither party would benefit financially from the other if the marriage ended.
The Judges found in favour of Ms. Radmacher, and said that the agreement was enforceable because both parties had the benefit of legal advice and it was entered into with full disclosure of each other's finances at the time.
It was the first time that prenuptial agreements were recognised as enforceable under UK divorce law.
The caveat is that while UK courts will recognise prenuptial agreements, they also still have the ultimate discretion to ignore any agreement reached if the agreement is deemed to be unfair to any children of the marriage.
Are solicitors required?
In order for a prenup to have enforce-ability, both parties must have had legal advice on the contents of the agreement and the effects of the agreement in the event of a divorce.
Otherwise, the court can ignore the agreement if it believes one party was disadvantaged by not having the correct advice.
It is therefore advised that once the agreement has been prepared, both parties get independent legal advice from a solicitor.
Divorce-Online can refer parties to qualified solicitors for this advice.
How to save money getting one?
The actual drafting of the agreement should be done by a Solicitor with experience and knowledge of prenup drafting.
A template document from the internet will not be legally enforceable.
Divorce-Online solicitors will be able to draft your agreement for a fixed fee of £299 as part of our Prenuptial Agreement Service.
If you have agreed on obtaining a prenup before entering into a marriage, we can help you save time, stress and money on doing so.
Some things to consider before getting one
Money and finances can be an extremely toxic topic in a relationship.
A prenuptial agreement provides a clear road map that can lead to peace of mind for both parties in the event of a split.
You should consider getting a prenuptial agreement for the following reasons:
There are assets and/or property that would be difficult to split because they were obtained before the marriage.
You, or your partner, have children from a previous relationship and want to ensure certain assets are preserved for them and to protect their inheritance rights.
You want to protect money or assets that you may receive from an inheritance.
You have a business or investments that you would wish to retain in control of.
If your partner has debts prior to the marriage, you can insert a debt clause to ensure that you will not be responsible for those debts and they would be repayable from any assets or property assigned to your partner in the agreement and not from your assets.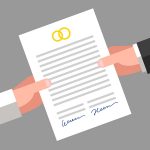 Prenuptial Agreement Service – £299
Save time, stress and money having our qualified family law solicitors drafting your agreed prenuptial agreement for you within 31 working days.