Divorce-Online is the highest-rated Online Divorce Provider!
You may be feeling sceptical about using our online divorce services, especially when you compare our affordable pricing vs the excessive costs that are charged by high-street solicitors.
However, if you are looking for a more affordable, stress-free and straightforward solution to divorce then Divorce-Online is the ideal provider for you.
Please use this page to read all of our excellent independent reviews and see for yourself why thousands of people choose our services over high-street solicitors each year.
Divorce-Online has more five star reviews than any other family law provider
Divorce-Online is TrustPilot's most reviewed online divorce service, with more five-star reviews than any other family law provider.
Divorce is a daunting time for some people, so it's even more important that you trust the company you use to help you through this difficult time.
The level of service you receive from our team of dedicated divorce experts is unrivalled. When that is combined with our industry-leading technology, it's the most comprehensive divorce service available (in our opinion).
Find Your Ideal Divorce Service Online
Use our simple online tool to find out which of our quick and easy divorce services is ideal for your circumstances and budget.
Which Service Do I Need?
Watch what real people are saying about their experience with Divorce-Online
We are really grateful to our customers for leaving honest reviews of their experience with Divorce-Online. Watch some of our recent video reviews below.
Our team are there for you from start-to-finish, whenever you need us
Our sole mission back in 1999 was to provide a low-cost, but professional divorce service that was available to all so fewer people had to spend thousands on lawyers.
This is still our mission today and our team are on-hand to help you from the beginning to the end of the process.
Industry-leading Technology – Track your divorce from your phone or laptop, 24/7
Divorce-Online is the pioneer in technology for family law. Our system enables you to stay up-to-date with your case whilst carrying on with your life.
Do you remember having to call or email a business for an update? Well, with our system (Divorce Track), we send you regular updates at important milestones to ensure you don't need to do that.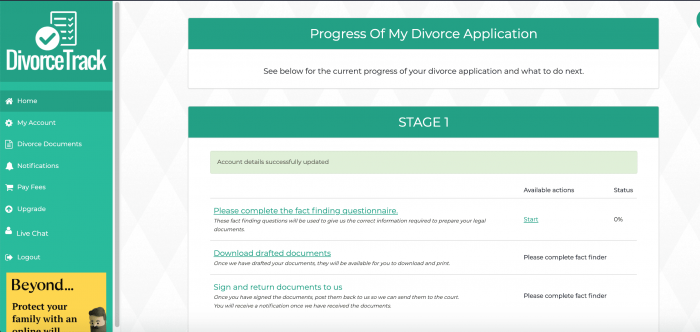 Managed Divorce Service – £189
This service is the quickest and easiest way to get divorced. Our team of divorce experts handle all aspects of your divorce and keep you updated on the progress, each step of the way.