Examples of Unreasonable Behaviour in Divorce
The most common examples of unreasonable behaviour
Domestic abuse
Lack of sex
Family disputes
Inappropriate relationship with another person
Debt/financial recklessness
Verbal abuse, shouting or belittling
Obsessive Hobby
Lack of socialising
Drunkenness
Lack of support
The most common way to divorce in the UK is to use unreasonable behaviour as your grounds for divorce.
It's largely used because in UK divorce law we do not have a no-fault divorce system, which means one party must blame the other in order to obtain a divorce unless they are prepared to wait for a minimum period of 2 years separation.
Two years of separation is too long to wait for most couples. They want a quick divorce so they can move on with their lives.
If both parties are in agreement with the divorce, using unreasonable behaviour can be a quick and easy way to end your marriage.
Divorce proceedings regardless of the grounds for divorce can only be initiated after a period of 12 months of marriage.
In most cases, the grounds you choose to base your divorce on will not affect the time in which it takes the court to grant your decree absolute.
However, if your spouse digs his or her feet in or doesn't respond to paperwork, the divorce process can be prolonged, that's why we recommended calling us on 01793 384 029 for free and impartial advice.
The intention of this post is to help you understand what unreasonable behaviour actually means and what behaviour is classed as being 'unreasonable' so you can ensure you have enough examples of unreasonable behaviour to satisfy the court and judge.
What constitutes unreasonable behaviour?
The allegations you make for unreasonable behaviour are unique to your relationship and must contain the inappropriate behaviour of your spouse and cannot contain your own behaviour.
Here are some examples of common unreasonable behaviour reasons given on divorce petitions:
Domestic Abuse
The Respondent has been physically violent towards the Petitioner, which has caused the Petitioner obvious upset and distress.
Lack of sex
The parties have not had a sexual relationship [insert date], which has been caused by the Respondent's behaviour, leaving the Petitioner distressed.
Family disputes
The Respondent has always disliked the Petitioners family, which has led to the Petitioner feeling isolated from them and thus causing [him/her] distress.
Inappropriate relationship with another person
The petitioner believes that the Respondent has formed an improper relationship with another [man/women], which has caused the Petitioner distress.
Debt/financial recklessness
The parties have argued over money issues for some time. These arguments have been fuelled by the Respondent's attitude and behaviour.
Verbal abuse, shouting or belittling
The Respondent has regularly belittled the Petitioner, both in private and on occasion in public, causing the Petitioner to lose self-esteem.
Obsessive Hobby
The Respondent is obsessed by [insert relevant hobby] and spends most [his/her] free time in this pursuit to the exclusion of the family.
Lack of socialising
The Respondent has consistently shown little or no interest in socialising with the Petitioner or [his/her] friends and has made no effort to do so.
Drunkenness
The Respondent often drinks excessively, in the view of the Petitioner, which causes [him/her] to behave in an [irresponsible/aggressive/unpleasant] manner, causing the Petitioner distress.
Lack of support
The Respondent has consistently refused to assist around the house, leaving all such matters to the Petitioner, despite regular requests to the contrary.
It's important to stress that your allegations of unreasonable behaviour don't need to be serious; mild allegations, such as not socialising together or sharing the same bed usually suffice when parties are agreed to the divorce.
If your relationship has drifted apart without any of the behaviours listed above taking place, you can look at using some of these milder examples of inappropriate behaviour:
The Respondent prefers to spend time with their pet than the Petitioner.
The Respondent refuses to talk about marital problems.
The Respondent doesn't give general support to the Petitioner, e.g. with housework.
The Respondent works long hours and is often away from home, leaving the Petitioner to feel stressed and lonely.
The respondent plays video games for long hours and leaves the Petitioner alone.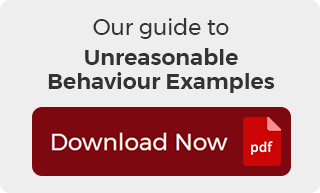 What time limits are involved?
A divorce can be initiated using unreasonable behaviour after a minimum of 12 months of marriage.
However, if you are cohabiting with your spouse for a period of more than 6 months after the last alleged unreasonable behaviour, the court may refuse to grant the divorce petition.
If the court refuses to grant the divorce, it will be as part of the consideration of whether you can reasonably be expected to live with the respondent.
If the petition is refused, you may need to wait until you have been separated for 2 years and divorce using that ground.
Practical tips on filing for divorce
Divorce is a stressful and painful time for most people, so this article is intended to provide you with practical ways in which to reduce the stress and cost of your divorce using unreasonable behaviour.
Here are 4 simple tips that we advise each client to do (if possible) when filing for divorce on the grounds of unreasonable behaviour.
1. Write down the behaviour allegations
Use a pen and paper to write down the behaviours of your husband or wife that caused the marriage to breakdown.
This ground can at first sound quite daunting, so writing down all of the allegations on paper first can make it seem more manageable and straightforward.
2. Agree on the reasons with your spouse
Reaching agreement isn't always possible, but if you are amicable with your ex-partner it will enable you to agree on the reasons for divorce.
Agreeing to the reasons or allegations will provide for a quicker, easier and more straightforward divorce procedure.
3. File for divorce within 6 months
Filing for divorce on the grounds of unreasonable behaviour should be done within 6 months of the behaviour taking place and the marriage breaking down.
This will remove any questioning from the court about the reasons or the allegations, which will remove any unwanted stress.
4. The allegations should be true
The allegations you make against your husband or wife must be true. If allegations are made that are false, it can delay the divorce proceedings due to your spouse contesting the divorce.
How Divorce-Online.co.uk can help you
We can help you obtain a quick, low-cost professional divorce without spending thousands of pounds when using unreasonable behaviour.
We've helped over 40,000 couples in the UK file for divorce on this ground by drafting their divorce petition for them and processing the divorce through the court.
We are experts in this type of divorce situation and are the highest rated online divorce provider.
"I selected Divorce Online earlier this year to handle all aspects of my divorce as I needed a fairly swift, easy and inexpensive solution. They delivered on all fronts which made a difficult situation easier and pain-free.".
Read our latest reviews
.
Find out how we can help you with your divorce…
Managed Divorce
Ideal for unreasonable behaviour
Service Features
You will save over £750 on the cost of your divorce compared to hiring solicitors.
Divorce applications through us typically finalise 10-12 weeks sooner.
There is no complicated form filling as we do this all for you.
You can track each step of your divorce 24/7, via your online case portal.
There will be no court hearings necessary for either party.
Service Description
We'll manage your entire divorce application through court for you, whilst keeping up-to-date on your case at each step. This service gives you peace of mind at a difficult and painful time for most. We're right behind you from the beginning to the end.