Everything You Need To Know About A Divorce Petition
The divorce petition, commonly referred to as Form D8, is the main document in divorce proceedings.
This official document is used to present your marriage details to the Judge, including your place of marriage, duration of marriage, and residency details.
Ensuring the divorce petition is completed fully and accurately will help you achieve a straightforward divorce; we cover everything else you need to know below in more detail.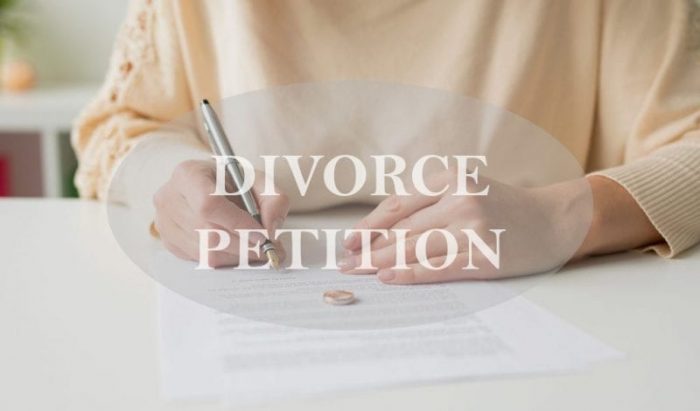 What is a divorce petition?
A divorce petition, otherwise known as D8 form, marks the start of your divorce process. A divorce petition is a form that is filled out by one spouse (the petitioner) and is filed and sent to the other (the respondent).
The divorce process takes on average 18-22 weeks and can you submit a divorce application online without needing to hire a solicitor.
Who can file a divorce petition?
You can only file a divorce petition if you and your spouse have been married for at least 1 year, and you live in England or Wales or be domiciled in England or Wales if you live abroad.
To petition for divorce you need to have grounds for divorce, which are as follows:
If you are the petitioner and filing the divorce papers it's important to know that you cannot file using your own adultery or unreasonable behaviour.
If you want to use your behaviour to initiate your divorce, your spouse will have to file the divorce petition.
What happens after?
To get a divorce, you will need to send your completed D8 divorce petition to your solicitor or if doing it yourself, at the nearest divorce centre.
However, before you send off your d8 form you need to pay the court fees and get a certified copy of your marriage/civil partnership certificate.
The court fees are currently £593, this fee needs to be paid at the start of your divorce otherwise your divorce petition will not be processed.
If you are on a low income then you may be exempt from paying the full £593, this is called court fee remission. You can use our court fee calculator to discover if you are eligible.
Who pays the divorce fees?
Initially, the petitioner will always pay the divorce fees, this is down to them being the one to process the divorce petition.
However, everyone's situation is different so if your divorce is amicable then many will share the divorce fees.
It's important to note that the petitioner can ask for the respondent to pay their costs in a fault-based divorce, or in a 2-year separation case if they both agree.
However, in our experience 9/10 times, the petitioner will pay the divorce fees.
The process of the divorce petition
There are 4 steps to divorce, these are as follows:
File a divorce petition form (D8)
Pay court fees – A payment of £593 is required
Decree Nisi – File a decree nisi application to the court
Decree Absolute – Apply to the court to end your marriage
Once the petitioner has completed the divorce papers it will be sent to the courts to be processed. Once this has happened the respondent will receive an acknowledgement of service form.
This form is sent to the respondent to say that they have read the divorce petition; they are then required to sign and send it back to the courts.
The respondent has the ability to agree, defend or ignore the petition. If they chose to defend the petition they will have to pay additional fees and complete an in-depth answer to divorce form.
If they choose to ignore it then the petitioner will have to get the papers served to result in additional time and money spent.
Next, you will be able to apply for your decree nisi, providing that everything is well. Once your decree nisi has been granted you will have to wait 43 days (6weeks +1 day) to apply for your decree absolute.
Finally, once you have applied for your decree absolute you should receive your certificate within two-three weeks.
On average, it may take you as long as 20-22 weeks for your divorce petition to result in your decree absolute.
Is it better to be the petitioner or respondent?
In a divorce, the petitioner and the respondent have very different roles.
The petitioner has the responsibility of filing and processing the divorce. The petitioner can also control the speed of the proceeding's, which, in some situations, can inconvenience the respondent, especially if they're looking to re-marry.
If one of you earns a low income then many seek to make them the petitioner due to the reduction in court fees.
If your divorce is amicable and one of you earns a low income then sometimes it works in your favour for them to become the petitioner and file the divorce petition.
In conclusion
A divorce petition marks the start of your divorce; it's a very important document and needs to be filled out correctly.
It's extremely important to have valid grounds for divorce due to the fact you will need to prove in some way that this is the reason your marriage has irretrievably broken down. If you cannot, you may not be entitled to a divorce.
If you are looking to get divorced and are wanting some help then make sure you check out our divorce services. We have many services to suit your needs and budget whilst saving you over £750.
Can I Get a Divorce Online from £59?
Find out in minutes if you're eligible to file for divorce online from £59. It's free to use and no personal details are required to find out.