Track your Divorce using DivorceTrak, the UK's Leading Case Management System
Divorce track is the leading case management system in its field. After our secure online checkout you will be sent an e-mail with your Username and Login details. There is no other case tracking system that provides the wide range of case tracking functionality that we offer, the reason being is that we have invested a large amount of time, effort and money into ensuring that the divorce process is as quick, affordable and stress-free as possible for its clients. DivorceTrak has been built and designed solely by Divorce Online, you will not find this level of functionality and ease of use anywhere else. We have fine tuned every step of the Divorce process to make sure that it is easy and simple to use, that you can contact us instantly and received updates and notifications every step of the way. We use full 128 Bit SSL encryption to ensure that all of the your personal information is kept secure and that only you have access to your account.
If you have purchased multiple products from us, for example, a Divorce and a Consent order, you can switch between these two products using the drop down box at the top of the screen. This will allow you to manage and check the individual progress of each of your products.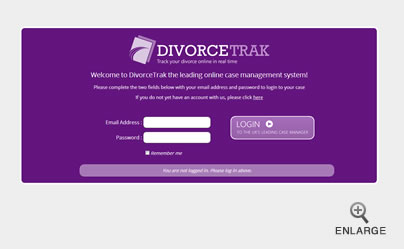 LOGIN TO OUR SECURE ONLINE CASE TRACKING SYSTEM - DIVORCETRAK
After our secure online checkout you will be sent an e-mail with your Username and Login details.
You will need to enter these into the fields displayed so that you can gain secure access to track your case.
Please note that this is secured using 128 Bit SSL encryption so that all your details are secure and safe.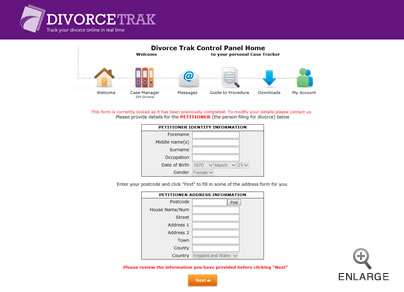 COMPLETE OUR QUICK & SIMPLE ONLINE QUESTIONNAIRE
Once logged in to your DivorceTrak account you will be presented with a simple and easy to fill in online questionnaire.
Depending on which product / products you have purchased this will be different. Once you have completed the relevant online forms our expert paralegal case managers will be notified immediately so that they can start drafting your documents and everything required for the service you have purchased.
CASE MANAGER
There is a reason why our online case manager is acclaimed as one of the best and that is the detail that it gives you in a clean and simple interface, through this you can see the following -
- What we do & what we have done (Updated instantly)
- What you need to do (If there is anything outstanding on your part)
- 24/7 instantly updated information of what stage your case is at
- Clear step by step visualizations of the process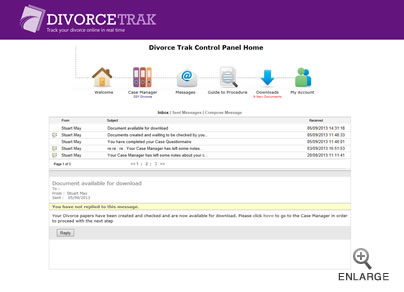 MESSAGE & SUPPORT
You will receive instant update and notifications both via e-mail and in your case manager interface. This easy to use interface allows you to keep a log of all the messages sent between yourself and your paralegal case manager.
From here you can submit support requests and queries with regards to your order aswell as asking general questions. Our case managers are alerted instantly so that we can help you as soon as possible.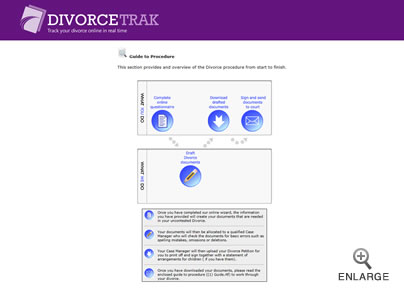 GUIDE TO DIVORCE PROCEEDINGS
This section of our case manager allows you to see exactly what each step of the divorce process actually means. We won't confuse you with complicated terms and phrases, we make sure that everything is explained in an easy to understand manor. So that you can be assured that you know exactly where you are in the Divorce process, what happens next and when it happens.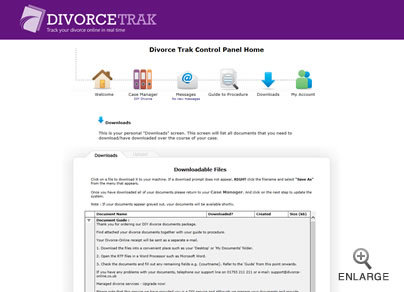 DOWNLOAD SECTION
The download section allows you to download documents as well as uploading any documents that we need. For example when we need you to print and sign documents, you will receive a message to log into the website and go to the Case Manager screen this will tell you that there are downloads available. Just click on relevant phase in your divorce (the round buttons available) and you will be taken to the download screen where your documents, guides and letters are presented to you for you to save to your computer.