Pension Sharing Orders On Divorce - The New Procedure
Whether it is right to share your pensions and how to share them will depend on the individual circumstances of your case.
Pensions are one piece of the overall 'matrimonial pot', alongside other assets, such as property, savings, income, and valuables for example.
Knowing your pension rights and the value of the pensions both parties hold is fundamental to achieving a fair financial agreement.
In this guide, we'll explain how pensions can be shared and help you understand which option is right for you.
What is a pension sharing order?
"A pension sharing order is made in court by a judge to divide private pensions between parties during divorce proceedings – The court order sets out what proportion of one or more pension schemes will be transferred from one partner to their ex-spouse."
Pensions are therefore treated differently to other marital assets, such as the family home or savings, which can be transferred from one spouse to another by mutual agreement without getting a court order. This is because personal pension providers cannot divide or transfer a pension plan without instruction from the court.
Pension Sharing
Before pension sharing was introduced in December 2000, a spouse who had not worked during their marriage could have been left with no access to their spouse's pension after a divorce.
Pension sharing allows a couple who are divorcing or dissolving a civil partnership to make a financial order, dividing up any pension funds between them. However, before agreeing to a financial settlement you need to know how pension sharing works and what other options are available to you to ensure you reach a fair agreement.
Firstly, pension sharing is not compulsory, it is just one of three options available to the courts to settle pension benefits after divorce. The other two alternative options to a pension sharing order are:
Pension Attachment Order
A Pension Attachment Order (referred to as 'Pension Earmarking' in Scotland) is essentially a form of spousal maintenance where part or all a person's personal pension is redirected to their ex-spouse or civil partner upon retirement. Attachment of pension payments are made from the pension fund at source rather than from the fund holder in either regular payments, a lump sum or a combination of both.
Pension Offsetting Order
A Pension Offsetting Order in divorce provides a clean break between all parties as the value of one spouses pension is exchanged, or offset, against other assets of similar value. So in practice, instead of giving up a portion of their pension a husband can instead waive the equivalent value of their share of the marital home.
Pension Sharing In Divorce Proceedings Explained
Regardless of your pension arrangements, in England and Wales, the only way to deal with pension assets is to have a court approve a financial order.
When a judge makes an order to divide pension savings between parties it is known as a pension sharing order.
A pension sharing order tells the pension providers of a fund to transfer a percentage of the transfer value (anything up to 100%) to the party who is to benefit from the order.
Any order to share pensions must provide for sharing of a percentage of the pension, not a fixed amount.
Pension sharing can be done using any private pension and some parts of the state pension.
Key Points:
Divorce lawyers are not regulated, qualified, or insured to give financial advice. Whilst legal advice is important, you should also seek independent financial advice from a financial advisor before sharing pensions, especially for those in receipt of a lump sum. What are you going to do with the £30,000 pension debit from your ex-partner?
The courts expect the member to get a valuation of his or her pension benefits known as a CETV, at the date of petitioning for divorce or when the couple officially separated. Typically, an up-to-date CETV is one that has been provided within the last 12 months. The provider of the pension scheme must supply the valuation within 3 months.
Pension schemes can pass on the costs of implementing pension sharing orders to the divorcing couple, outside of any legal fees for divorce.

The pension provider has 3 weeks from receipt of the order to appeal against it.
They can delay the start of the implementation period until charges are paid.
They have 4 months to implement the pension sharing order. This period involves discharging the pension debit/credit through an internal or external transfer.
Pension Sharing Costs
Most solicitors firms will charge you £2000+ to draft your legal agreement and deal with your pension company.
Contact Us
Give us a ring to speak with a member of our team to see how we can help you save thousands in legal fees.
01793 384 029
Our phone lines are open Mon-Fri, 9am-5pm
Compare our service with other family-law providers
| | Divorce-Online | Co-op Legal Services | Wooley & Co |
| --- | --- | --- | --- |
| Price | £599 | £1,500 | £1,500 |
| Fixed-Fee? | Yes | Yes | Yes |
| Online Service? | Yes | No | No |
| Online Case Tracker? | Yes | No | No |
| | | | |
How does a pension sharing order work?
As part of the process of splitting pensions, the assets of a marriage or civil partnership are assessed within a pension sharing order so that they can be divided between the couple.
Divorce pension sharing now means that pensions are included in the total value of marital assets.
It allows one person to get a percentage of the total value of the other person's pension.
That money is called a pension credit and can either be transferred into an existing pension, a new private pension, or an extra pension as part of the existing scheme.
See below for a visual example of the pension sharing process if you are in an agreement to share pensions after a divorce.
Pension sharing order timescales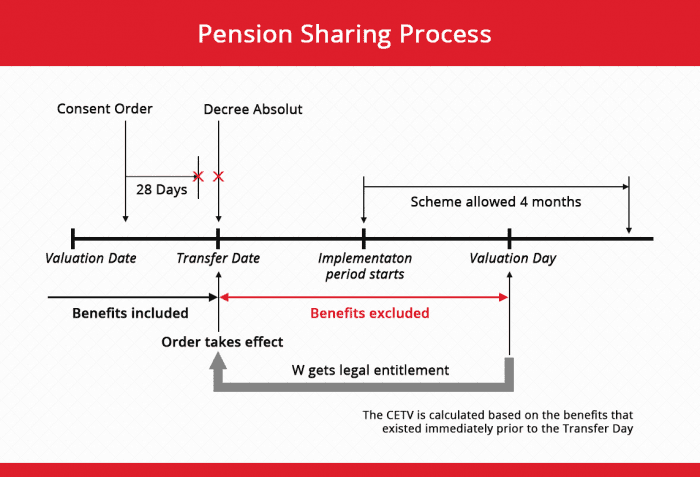 Finding out how much your pension is worth
The court will take into account any pensions that you or your spouse may have.
Before pension sharing can be set up, you must establish how much any pension funds are worth. You should include any:
Pensions you have through an employer
Additional State pension (this means any pension from the State Pension scheme in addition to your basic State Pension, ie. that you earned while in employment. The basic State Pension cannot currently be split in a pension sharing scheme.)
Personal pension schemes
It must be the person who holds the pension who applies for a pension valuation.
Valuing Workplace pensions
Workplace pensions can be a 'defined contribution', meaning that you pay a set amount into a pension pot.
In this case, you should look at your annual statement, which gives you a 'transfer value' for your pension.
If instead, you have a final salary pension scheme, which is determined by how much you earn, you may need to consult a financial adviser for a valuation.
This is because your calculation will be more complicated, based on how long you have paid into the pension for and how much you are paid.
Public sector pensions can be a little bit more complicated, so we would advise talking to the scheme first about obtaining the cash equivalent transfer value (CETV) and a statement of benefits.
All schemes will charge fees to provide these valuations and they can be quite high.
To value a personal pension, you should look at your latest annual statement.
This will show what your pension is worth and give you a 'transfer value', which is the figure the court will use to assess pension sharing.
Applying for pension sharing orders
To agree on a division of the pension pot, you need to apply to a court for a pension sharing order as part of your divorce.
Once your marital assets have been assessed, the court will award a percentage of one party's pension value to the other party, which is then used to set up a separate pension.
This separate pension may either be a scheme you are already paying into, or a new pension scheme.
It is advisable to speak to an independent financial adviser about the best way to apportion the pension credit.
The pension trustees will also charge you to implement the pension share and this can cost thousands of pounds.
Please find out how much they will charge before proceeding and consider splitting the charges between you.
Pension Sharing Order Agreement – £599
Splitting your pension funds in a divorce should not cost you thousands in legal fees. Our family law solicitors will deal with all aspects of your case for a low-cost fixed fee.