Divorce-Online: Highly Trusted Online Divorce Provider
Being the first company to complete an online divorce back in 1999, we are highly trusted and recognised as a leading provider of online divorces in England and Wales.
Having dealt with over 200,000 plus uncontested divorce cases in the 17 years we have been operating, we have gained an unrivaled amount of experience with getting your divorce through the system with as little fuss and stress as possible.
As we deal with a very large amount of uncontested divorces each year (7,500+), we have our own team at a specific county court who deal with our application personally to ensure the process is dealt with as quickly as possible.
Why Divorce-Online are so Trusted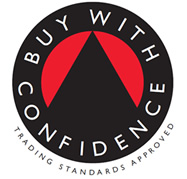 There are no other online divorce providers with the level of protection we offer.
This includes professional indemnity insurance and being a member of the institute of paralegals, where our staff are regularly trained.
Divorce-Online are the only online divorce provider to be approved by Trading Standards and part of the 'Buy with Confidence' Scheme.
All businesses on the 'Buy With Confidence' scheme are fully vetted and monitored by Trading Standards, which ensures a high level of service and customer satisfaction every time.
We provide a certain quality level of service you will not get with other providers, which would explain our exceedingly high level of customer satisfaction.
Divorce-Online is number one for Quality Assurance, Value for Money, Customer Satisfaction and all round Support and Guidance at a difficult time.
Why Choose Divorce-Online
The level of support you will receive from our helpful and friendly staff is unrivaled. We will put you at ease with the situation and let you know exactly what is going to happen and when.
You will be able to track your divorce process right from the beginning, up until you receive your decree absolute through the post. You will have your own personal case area, using our system DivorceTrak.
We understand that our clients have jobs and other commitments, such as children and may not be able to contact us during business hours. This is where tracking your divorce online becomes perfect as it will update you every step of the way.
Our simple promise to you
Our promise, is to ensure all our clients receive a professional, quick and affordable divorce with the minimum amount of stress, by using a mix of technology and customer service you won't get anywhere else.
We don't employ sales people and will give you all your options in an open and honest way and won't sell you something you don't need or want. You are buying a service, not double glazing.
One of the biggest complaints about law firms is that some are very bad at communicating. You can be sure that with our service, we will always get back to you quickly and won't bamboozle you with legal jargon.
START YOUR DIVORCE NOW FROM £59