Spousal Maintenance When Going Through Divorce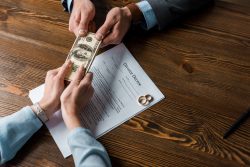 What is Spousal Maintenance?
Spousal maintenance is a payment that is made to a former spouse by their husband or wife after divorce.
Spousal maintenance is usually paid for a period of time defined by a number of years or for the remainder of the benefactor's life.
Spousal maintenance ends if the recipient either re-marries or either party dies. 
Why do I have to pay Spousal Maintenance?
Many divorcees find spousal maintenance a hard concept to understand. This is normally because they are unsure why they should have to support their former spouse once their marriage is over.
When married you have a duty to support each other and this duty does not end when the marriage is over.
Marriage can change the course of someone's life; they may give up work to support their family and home and in doing so, gave up their carer. If this is the case finding a new job with enough income to support their lifestyle can be extremely difficult.
This is where spousal maintenance payments help. These payments are in essence a 'top-up' payment to help support their needs.
Who is Entitled to Spousal Maintenance
There is no definitive answer to this question. Every divorce is different which means that every claim for spousal maintenance is different.
There are a few questions that you could ask yourself to see whether you may be entitled to spousal maintenance:
Can you meet your needs without the support of your ex? Does your income potential cover all your financial needs?
Have you been married for a long time and sacrificed your carer to take care of your children and home?
How old are you? Is it still possible to establish a career, which will support your needs?
Are you prepared to go to court to handle the matter if your spouse does not agree?
Are you in another relationship and looking to re-marry? If you re-marry you will lose your right to spousal maintenance
How much maintenance needs to be paid? 
The Court will look first to the needs of the parties and their capacity to provide for those needs. This is based on your income, property and the scope of financial resources that you have available.
If there is a shortfall between yours and your spouse's needs, the Court will consider the other spouse's situation.
If you have surplus income, property or finances after providing for your own needs, the Court will consider how much of that should go to meeting the shortfall of your spouse with fewer assets.
Spousal maintenance is often awarded to a spouse who has been left with the care of children under 18, who does not have the earning capacity owing to caring for children under 18, where there are few assets of the marriage available for division between the parties and if one party has significantly greater income than the other or where an elderly spouse cannot earn an income due to their age.
How is it paid?
Spousal maintenance is paid in two ways namely:
 A Periodic Order for payment of a specified amount on a weekly or monthly basis: this kind of Order may continue indefinitely or until a specified event has occurred, such as children reaching a certain age or remarriage.
A one-off lump sum payment of a specified amount: The lump sum amount may be a specified monetary amount or through the transfer of property. Spousal maintenance is payable by one partner to the other partner.
View our Consent Order Service – If you and your former spouse can come to an agreement we can draft your consent order including your spousal maintenance arrangement.
Do they take the length of marriage into account?
The courts will consider the length of the marriage when deciding if spousal maintenance should be paid. However, they will also take into account the effects of marriage and any minor children.
Therefore you may still be entitled to spousal maintenance if your marriage was short. We would advise you to seek legal help on the matter.
How long does spousal maintenance last?
The length of time will vary depending on many factors, each case is different.
Before a decision is made an investigation into the recipients earning, eligibility for benefits and financial situation will take place. This will help the courts determine how long the spousal maintenance will last.
In the majority of cases, the courts will issue a term order, a fixed duration.
However, if the recipient would not be able to adjust without the payment, a life order will be made. This is where spousal maintenance should be paid until either party dies.
All spousal maintenance orders end on the remarriage of the recipient.
Varying an Order 
Either the paying or receiving party can vary spousal maintenance payments if circumstances change.
This is done by sending in an application to the court with a Form A.
The Judge has wide discretion on this and will assess each case on individual circumstances, there needs to be a significant change in the financial circumstances meaning the order needs to be varied many couples can find themselves in this situation where the level of spousal maintenance cannot be maintained.
What's a Nominal Maintenance Order? 
A nominal maintenance order is different from a spousal maintenance order. A nominal maintenance order is an order that is made which states that currently no substantive spousal maintenance is required but may be needed in the future.
In many cases a nominal order is granted to a parent who is the main carer for a child, it protects them in case a change in circumstances occurs and they are financially unable to support their needs.
Avoiding Spousal Maintenance
If you have been ordered to pay spousal maintenance then you must continue to pay it for the length of time agreed. If you do not, you may face severe consequences.
If you're struggling to keep up the payments then make sure you speak to your former spouse and explain your situation, you can then apply to vary your order due to a change in circumstances, however, it's much easier to change if you're both in agreement. 
If you are the recipient of spousal maintenance and your former spouse has stopped paying, you need to take action quickly. The courts will need to be involved if the arrears are over 12 months or more.
If you are owed arrears from your former spouse then you will need to make an application for enforcement measure.
Can I get the level of spousal maintenance to be reduced?
Answer
You could apply to the Court for a downward variation of the existing maintenance payments to your wife on Form A. The application should be made to the Court dealing with the original order. Once the application has been issued the court will issue automatic directions which will give both parties dates for filing a financial statement on Form E. You should set out in full your income and expenditure and you need to have the existing order decreased.
Remember that when considering an application the Court can also vary payments upwards.
Will I have to pay my wife maintenance as she earns less than me?
Answer
There is no hard and fast rules about maintenance for former spouses, but as it is a long marriage and your wife earns considerably less than you, it maybe the court would want to place her in a position that would not harm her standard of living.
However this would be viewed along with all the circumstances when coming to a final settlement. If you take legal advice, do ask for the best possible and worst possible case scenarios if this were to go to Court. You may then decide to try reaching an agreement about your finances through mediation before resorting to instructing solicitors, as the latter is likely to prove a more expensive option.
My wife is living with someone can I reduce the maintenance order?
Answer
Yes, if your wife is cohabiting then the spousal maintenance ought to cease or be reduced to nominal payments for the duration of her cohabitation. You can apply to the Court for a variation of the Order. The maintenance in respect of your child, however, should continue.
Managed Consent Order Service – £299
This service is the quickest and easiest way to get your spousal maintenance finalised. Our team of experts handle all aspects of your consent order and keep you updated on the progress, each step of the way.