Common Myths About Prenups To Stop Believing
Prenuptial agreements, more commonly referred to as a prenup, have gained popularity over recent years as a way of setting out financial boundaries within marriage and protecting the assets of each individual spouse.
As a result, myths relating to their effectiveness and legality have also grown in abundance. In this article, we will attempt to dispel some of the most common myths about prenups.
But first, what is a prenup? Prenups are essentially a private contract, entered into by a couple prior to marriage, which specifies how their individual assets should be distributed in the event that they separate or get divorced.
What are the main myths relating to prenups?
Although prenuptial agreements have been used for many years, there are still several myths relating to their application. We will attempt to dispel some of the most common myths surrounding prenups in this article.
1. Prenups are only for the rich and famous
Prenuptial agreements originally gained prominence in Hollywood amongst the rich and famous who wanted to protect their wealth in the event of a divorce.
Initially, they were largely used by high net worth individuals. But over the last decade or so, prenups have increasingly been adopted by a variety of people getting married – even those with limited assets.
Obtaining a prenup is relatively affordable now – especially when using a Prenuptial Agreement Service such as that provided by Divorce-Online. So prenups are more accessible than they have ever been.
2. Prenups are not valid in the UK
Many people still associate nuptial agreements with America and don't realise it is possible to obtain them in the UK.
In fact, the UK Supreme Court decided back in 2010, in the case of Radmacher v Granatino, that nuptial agreements were in fact valid in the UK and should be considered by the courts. It held that:
"The court should give effect to a nuptial agreement that is freely entered into by each party with a full appreciation of its implications unless in the circumstances prevailing it would not be fair to hold the parties to their agreement."
So although prenups are more traditional in America, they are available in the UK and have been given legal standing by the courts.
3. Prenups are not valid in court
It is important to clear up a misunderstanding regarding the legal validity of prenuptial agreements in the UK.
Officially, prenups are not considered to be automatically legally binding in the UK. This means that courts are not obliged to uphold all their terms if they consider them to be unfair.
But in light of the Radmacher v Granatino ruling (mentioned above) courts will generally give legal effect to prenups that have been validly entered into.
Nevertheless, judges can decide to override the provisions contained in a nuptial agreement, to ensure a fair outcome.
So prenups do generally carry weight in court – but there is no guarantee that all of their provisions will be upheld.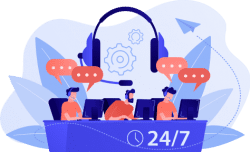 Do You Have Any Questions About Prenuptial Agreements? Speak to our friendly team on Live Chat for a quick and reliable answer or call us on 01793 384 029.👋 Chat with us now!
4. Prenups are a sign of a marriage destined to fail
Many people find the concept of a prenuptial agreement unromantic. Since they were initially associated with celebrities who are often in and out of divorce courts, there is still a stigma related to prenups.
There is a notion that couples who even entertain the possibility of divorce by signing prenups are destined for a relationship breakdown.
But there is a converse argument that couples who enter into marriage with a more practical mindset, taking into account the possibility of divorce at some point in the future, are actually better prepared for marriage.
After all, in the long run, the practical aspects of marriage generally outlive the initial honeymoon period of romance.
5. Anything can be included in a prenuptial agreement
Some people believe that there is complete freedom for couples to decide on the provisions to include in a prenup.
Although this is true in the sense that they can agree on the terms to include, a court will disregard anything which is considered to be manifestly unfair to either party.
For example, in the case where there is a significant imbalance of wealth between the couple, although it is possible to include a provision that one party will retain all of their assets in full upon divorce if this leaves their ex-partner destitute, the court will almost certainly refuse to uphold this provision.
6. You can create your own prenup without a lawyer
Although it is possible for a couple to provisionally agree on the terms to include in a prenup, solicitors will also need to be consulted before it takes effect.
Both prospective spouses should obtain independent legal advice before they sign a prenuptial agreement. Lawyers will be able to analyse the individual provisions and decide if the overall prenuptial agreement meets the interests of their clients.
Without this legal advice being provided to both parties, the prenup will not be valid and a court will not need to take its provisions into account.
The prenuptial agreement service from Divorce Online includes legal advice to ensure a prenup is legally enforceable.
Compare our service with other leading family-law providers
| | Divorce-Online | Co-op Legal Services | Wooley & Co |
| --- | --- | --- | --- |
| Price | £699 | £1200 | £1800 |
| Fixed-Fee? | Yes | Yes | Yes |
| Online Service? | Yes | No | No |
| Legal Advice | Yes | Yes | Yes |
| Asset Limit | Up to £3M | £1M | £1M |
** What is an online service?
An online service is where you can submit the financial information for your prenup without needing to complete any paperwork, phone calls, or emails. It speeds up the process of having a solicitor review your information and draft the necessary prenup.
7. You can make a prenup at any point before you get married
A prenup must be signed at least 28 days before the wedding day.
The main reason for this minimum window period is to allow both marriage parties to have time to consider the provisions. Otherwise, it could be construed that either prospective spouse was under undue pressure as a result of the prenuptial agreement being rushed through.
If it is too late to create a prenup before the wedding, it is possible to form a postnuptial agreement or postnup after the wedding.
Postnups have the same effect as prenups, but they are created after the marriage has taken place. Divorce-Online has a fixed-fee Postnuptial Agreement Service which costs just £699 including VAT.
8. You cannot change a prenup
Although it is not possible to change the terms of a prenuptial agreement after marriage, it can be scrapped and replaced with a postnuptial agreement. So the effect of creating a postnup essentially updates the provisions of any prenup.
It is advisable that a prenuptial agreement – or indeed any postnuptial agreement – is regularly reviewed, particularly in light of any changes to life circumstances, and updated if necessary.
Professionally Drafted Prenup For £699
Don't spend thousands on having your already agreed prenup put into an agreement. Use our service for £699 and receive a professionally drafted agreement within 28-31 working days.