Divorce Solicitors Cardiff - Specialists in Family Law
Going through a divorce can be extremely stressful, but an important question frequently overlooked by those going through the experience is how do you select a good divorce solicitor from the mediocre ones in Cardiff?
Since April 2022 when the divorce law changed in England & Wales the process of filing for divorce is almost a paperwork filing exercise in some respects and can now be done online. But ensuring you achieve a fair financial settlement is certainly not so straight forward and requires specialist family law solicitors.
We believe that choosing a good divorce solicitor can significantly influence the outcome of your financial settlement. As long-standing specialists in family law we provide professional legal advice to ensure you obtain the best possible outcome for you and your family.
We offer fixed-fee solicitor managed divorce services from just £399 including VAT, which compared to using many divorce solicitors in Cardiff could save you £1,500 or more. Our solicitors will deal with all correspondence with the courts and from any third-party solicitors.
Fixed-fee divorce solicitors Cardiff
Finding the best divorce solicitors to handle your case in Cardiff can be difficult, especially when the average hourly rate charged is around £250 + VAT.
But just because you live in a capital city like Cardiff doesn't mean you have to spend lots of money getting your divorce.
We firmly believe that everyone should have access to professional legal advice before starting divorce proceedings and especially when it comes to getting a fair financial settlement. Moreover, by providing you with the exact costs up front affords you peace of mind at a difficult time when the last thing you need worry about is the cost of divorce.
That is why we provide a fixed-fee solicitor managed divorce services that is handled by experienced divorce solicitors for just £399 including VAT for our clients in Cardiff.
If both parties want the divorce and a financial settlement has already been agreed, or agreed in principle, or you don't have finances to negotiate then we can help you get divorced. You will find there are no hidden extras or additional fees involved with our divorce service, other than the mandatory court filing fees that at present cost £593.
Our divorce solicitors specialise in all aspects of family law and collectively have over 50 years of experience, which means that your divorce case will be handled by highly qualified professionals, but at a fraction of the cost of a Cardiff law firm.
We pride ourselves on providing a low-cost alternative to established divorce solicitors in Cardiff that you can trust…
How long does a divorce take from start to finish in the UK?
Divorce applications filed since the law change in April 2022 will generally take 6 to 7 months from start to finish for the simplest of cases in the UK – where responses from both parties are submitted in a timely fashion.
Unfortunately, as divorce is a legal procedure that must be carried out to a strict criteria there is no absolute timescale for the process to complete. However, there are various avoidable factors that can cause delays, some of which we will consider in this blog.
Fixed-fee divorce handled by qualified solicitors £399
If you're planning to start divorce proceedings in Cardiff our fixed fee divorce solicitor service costs just £399 including VAT.
It should be noted that this divorce service only deals with ending your marriage, it does not end your financial relationship. If you have joint assets like the family home or a pension that needs dividing upon divorce then you also require an additional clean break service.
Another possibility since the divorce law change in April 2022 is that you can now share the cost of divorce by making a joint application to file for divorce. This helps keep things amicable between you and your ex-partner.
Our stress-free and affordable divorce service enables you both to receive a professional service without causing unnecessary acrimony, as can sometimes be the case when each party instructs their own solicitor.
With our fixed-fee solicitor managed divorce service our expert family law solicitors will prepare and file all the necessary documents for you both to obtain your divorce.
Fixed-fee Divorce Solicitor Service
This service is the quickest and easiest way to get divorced whilst using a qualified family law solicitor. Our use of technology and excellent customer service ensures we provide the best divorce solicitors service anywhere in the UK.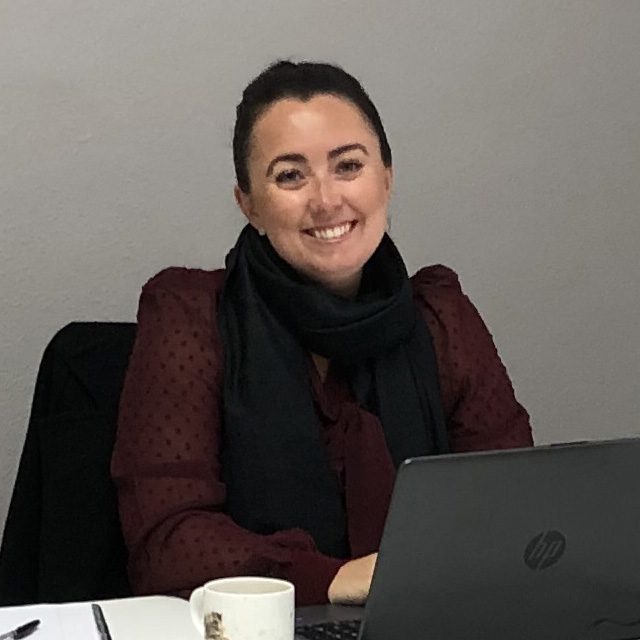 Lara Hooper LLB (HONS)
Solicitor
About Divorce-Online
Our family law experts help thousands of people every year, whether that is giving legal advice or helping them deal with a divorce.
Contact Us
Give us a ring to speak with a member of our team or you can fill out our contact form and we'll ring you back.
01793 384 029
Our phone lines are open Mon-Fri, 9am-5pm
Compare our service with other family-law providers
| | Divorce-Online | Co-op Legal Services | Stowe Family Law |
| --- | --- | --- | --- |
| Price | £399 | £600 | £900 |
| Fixed-Fee? | Yes | Yes | Yes |
| Online Service? | Yes | No | No |
| Online Case Tracker? | Yes | No | No |
| | | | |
Frequently Asked Questions
What is Online Case Tracker?
Can you help me even if I don't live in Cardiff?
Can you get divorced without a solicitor?
How much does a divorce solicitor cost?
What does a family law solicitor do?
What does the fixed-fee divorce service include?
Our expert divorce solicitors are on hand to handle the entire divorce procedure for you and unlike law firms in Cardiff, there's no need to visit our offices to meet with solicitors. You can provide us with all of the details we need to complete your divorce application online.
You can also stay up-to-date throughout the process in your account at any point without needing to call or email us.
Documents – From the information you provide us with, your solicitor will draft the required paperwork they need in order to complete your divorce.
Application – Each divorce application will be sent into the court on your behalf by your solicitor.
Communication – Your solicitor will deal with all communication with the court, opposing solicitors and the judge when necessary.
Online Case Management – Track when paperwork has been sent into court, received by your solicitor or sent into court to be processed.
Free Legal Advice – Get free legal advice via telephone skype and email with no extra charges.
You can file a divorce petition in England or Wales provided you can answer YES to the following four questions:
Have you been married for a year or longer?
Do you permanently live in England or Wales or are you domiciled in England or Wales if you live abroad?
Is your marriage legally recognised in the UK? (includes same-sex marriage)
Has your relationship permanently broken down?
Our Cardiff Divorce Solicitors will handle the entire divorce procedure from start to finish on your behalf, ensuring everything proceeds smoothly and efficiently.
You will be able to track every step using DivorceTrack
You can not only track the progress of your divorce case in real time, but you can also use DivorceTrack to download and store documents created for you by your paralegal case manager. Plus, you can easily upload any documents that we need from you as well as securely receive our support messages in private.
The key stages of the divorce process are as follows:
1
File a D8 divorce petition
Start the divorce process by making a sole or joint application by filing the divorce petition form D8 – a payment of £593 is required to apply for a divorce and will not be refunded after you are sent notice that your divorce application has been issued. The filing of form D8 means you are formally asking the court for permission to divorce.
2
Acknowledgement of Service
The court sends your spouse (the respondent) an Acknowledgement of Service form, which they need to respond to within 14 days saying if they agree or intend to dispute the divorce. They must have a legal reason to dispute the divorce, they cannot dispute the petition because they do not want to get divorced or to delay the process.
3
Apply for Conditional Order
A conditional order (previously called decree nisi) confirms that the court does not see any reason why you cannot divorce. If the information in the divorce petition is correct and your spouse has responded to the court, they will grant you a conditional order after a 20 weeks 'cooling-off' period.
4
Pronouncement of final order
The final order is made once the court has received the Notice of Application for the conditional order to be made Final. You can only apply for a final order (previously called decree absolute) after waiting at least 6 weeks + 1 day from the date of the conditional order.
Once you receive the pronouncement of final order, you are officially divorced, no longer married and free to marry again if you wish.
Please note, divorce does not end your financial relationship. If you have joint assets including the family home or a pension, that will need to be divided and you will require an additional clean break service.
Compare Our Service With High-Street Solicitors
If you are not familiar with online divorce solicitors and want to know how we are different from traditional high-street solicitors, the chart below will help show you the main differences.
Few people actually want to go into expensive high-street law firm premises anymore
Thousands of people each year are doing their divorce via online services
Many people dislike the inconvenience of travelling to town or city centres and visiting offices for meetings, especially since the COVID pandemic
No need to visit our offices or take time off work
Excessive hourly fees provide no guarantee on the final cost of your divorce
For your piece of mind our fixed fees provide you with clarity from the start
Speaking to your solicitor via a receptionist can be frustrating and costly
Speak to your personal adviser directly at anytime throughout your case
Staying updated on your case requires you to chase for updates
Track your entire divorce procedure online, 24/7