DIY Divorce Service – £59
File your own divorce in the knowledge that the divorce forms have been completed by experienced divorce professionals and sent to you via email or post to print off and send to the court. Full instructions and support are available throughout for just £59.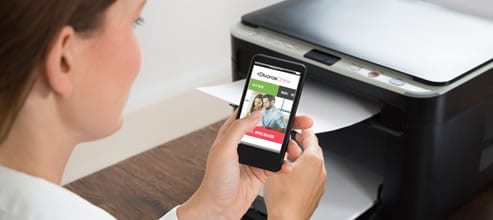 DIY Divorce Service – £59
File your own divorce without hiring a solicitor or attending court. You can save over £750 on the cost of your divorce.
All the divorce paperwork you'll need to obtain a divorce will be completed by our divorce experts and then sent to you within 24 hours via email or post.
Simply sign the divorce papers, post them into court to start proceedings and follow our instructions to complete your divorce.
Complete Our Simple Order Form
To Start Your DIY Divorce – £59
Completed Divorce Papers Sent To You Within 24 Hours for £59
Filing for a divorce can be daunting, especially when the court forms were not designed to be self explanatory.
Our DIY Divorce Service was designed for people who want to file the divorce themselves, but have expert help. Prefer us to deal with your entire divorce for you? View our Managed Divorce Service
This service deals with every ground for divorce and we can help you choose the right one to use to make your diy divorce as quick and easy as possible.
We can also help you with this service even if you have children within the marriage. The process doesn't change and it doesn't cost you anymore if you have children.
Our divorce experts will draft your divorce papers for you and immediately after they've been checked for accuracy they will be sent to you via email or post within 24 hours with an easy to follow, step-by-step guide to the divorce process.
Steps Involved With Our DIY Divorce Service
1
Make a secure payment online
Complete our secure online order form to get started. A one-off payment of £59 is required, which covers both parties.
2
Provide us with your details
Complete a simple online questionnaire so we can obtain the details we need in order to draft your divorce papers.
3
Receive your divorce papers
Your divorce papers will now be drafted, checked to ensure they are accurate and then sent to you within 24-hours along with a detailed guide to follow.
4
Start your divorce proceedings
Read through our detailed guide and then post your completed divorce papers into court to start the divorce proceedings.
Using this service will give you the confidence to file your own diy divorce, as you can be sure that what you have filed at court will be accepted by the judge and prevent any delays or additional costs.
Divorce-Online were the first UK company to offer an online divorce service in 1999 and are trusted by thousands of clients every year to handle their diy divorce.
Why Choose Our DIY Divorce Service Over Doing It Yourself
100% Accuracy – Mistakes on divorce papers can incur additional fees of up to £140, but not with us.
Quick Turnaround – You can have your completed divorce papers in your hands within 24 hours.
No Stress – You don't need to spend hours of your time completing legal forms you don't understand.
Guidance – Follow our detailed guide to complete your divorce process without any stress.
Protection – We have a 14 day refund guarantee if the service is not suitable for you.
Doing your own divorce without any help typically takes 33 weeks in England & Wales, but using our service you can reduce the amount of time it takes for your divorce to be granted in half.
This do it yourself divorce service is your perfect solution to getting divorced if you are looking to file a straightforward divorce but want to make sure your divorce papers are correct and error free.
A DIY Divorce isn't right for everyone. If you aren't comfortable dealing with the courts and judge then our Managed Divorce Service will be more suitable, we deal with everything for you.
Please Note: Court fees in divorce are set by the government and are currently £550 to file for divorce. They are separate to our fee and are paid at the time you start divorce proceedings. They can be paid via cheque, postal order or over the phone with ourselves at any time. If you are on a low-income or receive certain benefits you may be entitled to a remission with these fees, call us on 01793 384 029 to find out.

Questions About Divorce, Finances, or Property?
Is our DIY Divorce Service suitable for you? Find out by speaking with us on Live Chat for a quick and reliable answer.