Detailed Consent Order Service – £499
This service is ideal for couples that are looking to legally separate all of their assets and finances by the way of a consent order. Our solicitors will draft the order to your individual circumstances and process the application through court until the order is granted by a judge.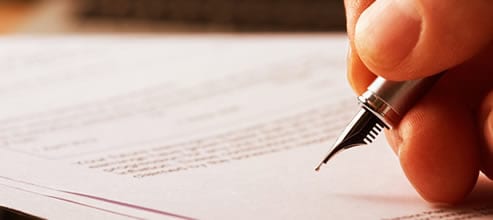 Detailed Consent Order Service – £499
Our qualified divorce solicitors will draft your consent order agreement and process it through court for you. 
You'll not need to attend court or visit our offices, everything can be done online or via email and phone. 
Your order will be drafted within 31 working days and processed through court for you to ensure it's granted and made legally binding by a judge.
We Handle Your Entire Consent Order Application For £499
Our Detailed Consent Order Service is ideal for couples that are looking to put all of their assets and finances into a legally binding financial order, to ensure no claims by either party can be made in the future.
You will have a qualified solicitor drafting your consent order agreement to your exact needs and then filing your application with the court on your behalf.
As part of this service, we will deal with any questions or queries the court raise regarding your order, leaving you to carry on with your life without the added stress.
Obtaining a consent order through the court will mean that after your divorce you will have no financial ties to your ex-partner.
The decree absolute, which ends your marriage, does not end financial ties – you are still financially tied unless you obtain a financial court order.
How Our Detailed Consent Order Service Can Help You…
Save over £1,000 when compared to the costs of hiring a high-street solicitor. Our service is a fixed fee, with no hidden or extra costs, so you can be sure of the exact costs involved before getting started.
Save time and stress by completing everything online and via post, which means you won't need to spend your valuable time visiting our offices to provide us with information, at any stage.
We understand how frustrating it is having to chase companies for updates, which is why we keep you updated at each stage of the process, to ensure you never have to chase us.
We use technology to streamline the process of obtaining the information we need from you, therefore we can process your consent order through the court in 10-12 weeks quicker than when compared to using a high-street solicitor. If costs, speed, and ease are important to you when considering how to deal with your consent order then this service is ideal for you.
Who is suitable for our Detailed Consent Order Service?
This service is ideal for those who want to include the below as part of their financial agreement:
The division of pensions (pensions sharing order)
Property portfolios
Business assets
Investments
Personal belongings
Lump-sum payments
Child/Spousal maintenance
Debt provisions
This service does not include help negotiating your agreement, amendments to the consent order if your case becomes disputed or advice relating to costs order or court hearings.
To obtain a consent order using this service all you need to do is provide us with your agreed financial split and then complete a statement of information form that consists of your current income, any capital you have, and property and pension values.
This service can take up to 31 working days to be drafted and can only be filed if you are already divorced or your divorce proceedings have reached the decree nisi stage.
As we deal with your entire financial order application, you are not required to file anything yourself with the courts or complete any legal paperwork.
It typically takes the judge between 8-10 weeks to approve the order and make it legally binding from the point at which we file the application for you.
What's Involved With Our Detailed Consent Order Service?
Complete our simple online order form.
Complete a quick & simple online questionnaire – so that we can obtain your details.
Sign the necessary paperwork we send you – we will show you where it needs to be signed.
Return the signed consent order paperwork back to us.
We will file the consent order with the courts on your behalf and keep you updated throughout.
We will explain clearly where a signature is required from you to make it quick and easy. The signed consent order will be sent into court and dealt with for you.
If you require your financial order to be drafted quickly, we can fast track your order and have it drafted within 5-7 working days, simply call us on 01793 384 029 to find out how.
Court fees are currently £53.00 to apply for a consent order. You may be exempt from paying court fees if you are on a low income or benefits.
To use this service, both parties must be in agreement to make the consent order and provide details on their income and assets.
Professional, Quick & Affordable Service
We will manage your entire financial application for you from start-to-finish, including the drafting and filing of the consent order under a one-off fixed fee payment.
"I selected Divorce-Online earlier this year to handle all aspects of my divorce as i needed a swift, easy and inexpensive solution. They delivered on all fronts which made a difficult situation quicker, easier and stress free".
See our latest reviews.

Questions About Finances, Property, or Pensions?
Do you have a more complex financial situation or valuable assets? Chat with our friendly team on Live Chat for an instant reliable answer.