Clean Break Order Service – £299
A clean break order is a legally binding court order that enables couples to sever all financial ties following a divorce when there are no on-going payments to be made, for example, maintenance or division of money or assets.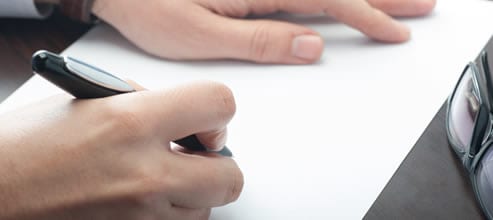 Clean Break Order Service – £299
This service is ideal for couples that want an amicable way of obtaining a legally binding clean break order as part of their divorce, to ensure neither party can make any future claims. 
Obtaining this type of court order through high-street solicitors would cost £1000+VAT. 
Your solicitor will process your application through court for you. All you need to do is sign the paperwork and pay the £50 court fee – We do the rest for you.
Clean Break Order Service – Save over £1000 Compared To Solicitors
A clean break order is a court order entered into by couples who do not have children going through a divorce in order to prevent either party from making any claims against the other's future income or assets.
Obtaining a clean break order is the only way divorcing parties with no assets or children can ensure that all financial ties are ended and no future claims can be made by either party.
If you don't obtain a financial court order as part of your divorce, you will stay financially tied to your ex-husband or wife, even years after your divorce.
Most solicitors will charge over £1000+ VAT (£1200) to draft the clean break order paperwork; our fee is just £299 fixed fee and it covers both parties from start-to-finish.
Our qualified family law solicitors will draft your order to your individual needs and file it with the courts for you. This includes us dealing with any queries the judge may have on your order.
Do I Need a Clean Break or Consent Order?
A clean break order is for people with no assets to divide or where you have already dealt with your finances but now want a legally binding order to ensure neither party can claim against the other in the future.
If you have children under 18 you are unable to have a clean break as you will have ongoing financial responsibilities.
If you have any outstanding money or assets to divide, e.g. property, investments or maintenance, then you need to use our Consent Order Service for £399.
A clean break order is a voluntary agreement and therefore must be signed and approved by both parties before a judge can grant it.
If you require the order to be drafted quickly, you can fast track the drafting to within 5-7 days. Call us on 01793 384 029 to find out how.
Please Note: Court fees to file a financial order are currently £50.00. You may be exempt from paying court fees if you are on a low-income or receive certain benefits.

Questions About Clean Break Orders?
Unsure which type of financial order you need? Chat to us on Live Chat for a quick and reliable answer.
How To Get Started With This Service…
Complete our online order form.
Complete a quick & simple online questionnaire – so we can obtain the details of your agreement.
Your solicitor will draft your Clean Break Order and send it to you, to agree and sign.
The agreed and signed clean break order form will be sent into court for you.
You can now track the progress via your online account from your phone or laptop.
What's included as part of this service for £299?
The drafting of a clean break order
The completion of the Statement of Information form
We file the clean break order for you and process it through the court
We deal with any enquires the court may have
We keep you fully updated throughout the process
What's not included with this service?
Help to negotiate your financial agreement
Completion of a consent order where property or other assets are being divided (view our consent order service)
Amendments to the order by either party in the event of the case becoming disputed
How our Clean Break Order Service can help you
This service will help you obtain a clean break order through court 10-12 weeks quicker than when hiring high-street solicitors.
Because our service is £299 fixed fee, we can help you save over £1,000 when compared to hiring solicitors who charge £1,000+ VAT for the same service.
You will be able to move on with your life in the knowledge that no further claims can be made against you in the future.
Our solicitors are regulated by the Solicitors Regulation Authority (SRA), which ensures that they have the highest qualifications and experience to deal with your case.
Everything can be done online and via post, which means you can spend your valuable time doing the things you enjoy and not needing to visit our offices to provide us with information.
Professionally Drafted Clean Break Order – £299
This service provides you with a solicitor-drafted clean break order that we manage through court for you, to ensure that your order is granted by the courts and therefore becomes legally binding without costing you thousands.