Why choose Divorce-Online? –
The UK's Leading Online Divorce Provider
Divorce-Online was the first online divorce service in the United Kingdom, launching in September 1999.
Over the last 20 plus years, we have looked after 180,000 clients from all walks of life, and all kinds of situations providing a quick and personal experience for each one.
Our philosophy has always been to provide a better service than anyone else and we constantly try to maintain the highest levels of service each and every day.
Buy With Confidence
You can rest assured that you can "Buy With Confidence" because Divorce-Online are the only online family law divorce provider to be Trading Standards Approved. For businesses to be approved for the scheme they will have been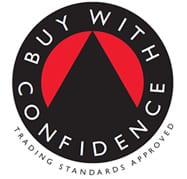 vigorously audited by UK Trading Standards to ensure that they operate in a legal, honest and fair way.
Divorce-Online are proud to display the Trading Standards trust mark on our website and publishing material, permission is only given to companies who meet very strict criteria for customer service and compliance with all consumer legislation.
Track Your Divorce Online
Technology has allowed us to create a bespoke system, "DivorceTrack", that intelligently creates documents, based on years of experience, and then allows the user to track the whole process from start to finish with updates at each key stage of the divorce.
Together with a great set of trained staff, we have created a service that not only saves people a great deal of money, they also get the personal touch often lacking with online services.
Online divorce is completely safe and legal. We follow the same procedures as high street solicitors with expensive offices and prepare the legal documents in exactly the same way. We believe we are the largest filer of divorce petitions in the UK by some margin.
Reasons why you should entrust Divorce-Online to handle your family law matters…
1
We'll save you over £750
We help save you thousands compared to hiring traditional solicitors to manage your divorce.
2
We speed up your divorce
We speed up your divorce process by at least 10 weeks compared to when you do your own divorce.
3
We remove any stress
We remove all stress from your divorce procedure by handling everything for you and keeping you updated.
4
#1 rated online divorce provider
We're the highest rated online divorce provider and are the only divorce provider that's approved by trading standards.
We believe we have created the most complete, quick and simple online divorce solution, which will help you get divorced with the least amount of stress possible, whilst saving you over £750 compared to using a solicitors firm. Call our divorce experts today to see how we can help you get divorced on 01793 384 029.
Divorce is very confusing, but we can give you free no obligation advice on how the divorce process works, what grounds you can use and which service would be most beneficial for you.
We want our clients to have a great relationship with us while they are using our service and "customer service" is the number one priority for all our staff, whichever department they work in.
Our simple promise to you
You will receive a professional and quick divorce with the minimum amount of expense and stress, by using a mix of technology and customer service you won't get anywhere else.
We will give you all your options in an open and honest way and won't sell you something you don't need or want. You are buying a service, not double glazing.
One of the biggest complaints about law firms is that some are very bad at communicating. You can be sure that with our service, we will always get back to you quickly and won't bamboozle you with legal jargon.